360info in collaboration with the Calcutta Research Group explores the changing causes and effects of migration at a time when one in 30 people globally is a migrant.
This year's World Refugee Day renews focus on the world's responsibility to provide safety for all its people. After two years of heavy travel restrictions, the exit of the US from Afghanistan and a new war in Ukraine, migration continues to change around the world.
More than 10 million people live stateless and over 100 million people have been displaced.The number of refugees globally has increased each year of the decade, according to United Nations High Commissioner for Refugees Filippo Grandi.
"Either the international community comes together to take action to address this human tragedy, resolve conflicts and find lasting solutions, or this terrible trend will continue," he said.
Migrants are often among the most vulnerable members of the population. Their relative lack of power in the workplace often makes them subject to exploitative working conditions.
From rural-to-urban workers seeking more stable employment to sex workers trafficked across borders, migrant workers across industries and continents lack protection.
And for migrants who are leaving their country of origin to escape danger, the risks are high. Even those who survive the arduous journey often face another life-threatening challenge: statelessness. Denied citizenship of their destination country they are often unable to safely return to where they came from.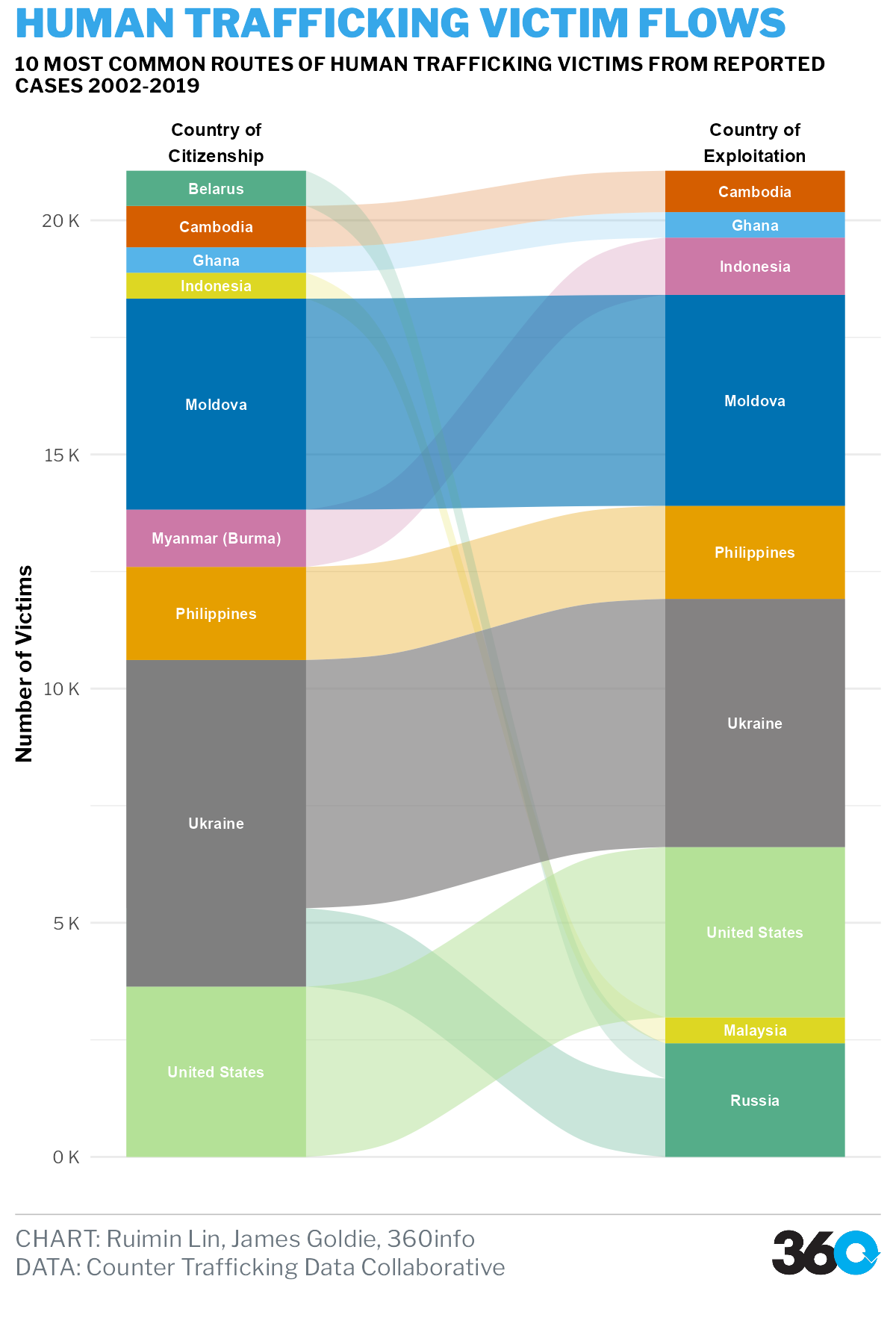 Researchers want to see nations and intergovernmental organisations strive for better systems of migration that can prevent displacement, provide a state of safe harbour for migrants, and stop the exploitation of vulnerable workers.
360info is looking at the changing face of migration in this Special Report, a collaborative project with the Mahanirban Calcutta Research Group.
REALITY CHECK
One in 30 people globally is a migrant - that is, about 3.6 percent of the world's population consists of migrants. This amounts to 281 million international migrants - people living in countries other than their place of birth - in 2020 according to the UN's International Organisation for Migration. This was 128 million more than in 1990 and three times the estimates for 1970.
According to the IOR's World Migration Report, the migrants in Europe (87 million) and Asia (86 million) host about 61 percent of the international migrant stock, they are followed by North America (59 million of 21 percent of the total migrants), Africa (nine percent), Latin America and Caribbean (five percent) and Oceania (three percent).
In 2019, more than two-thirds of all refugees came from five countries - Syria, Venezuela, Afghanistan, South Sudan and Myanmar.
BIG IDEAS
Quotes attributable to Prof. Ranabir Samaddar, Distinguished Chair in Migration and Forced Migration Studies at the Mahanirban Calcutta Research Group.
On whether migration and statelessness go together:
"If you take internal displacement, then clearly migration and statelessness do not go together. This category of migrants includes IDPs due to development activities, climate change and more.
Today, with citizenship laws, between jus soli or citizenship by birth, and jus sanguinis or citizenship by blood, increasingly favouring citizenship by blood a child born in the UK cannot become a citizen unless born of British parents. Statelessness and migration have become linked.
"Statelessness often begins at home. In India's northeast, because of citizenship drives many have become stateless. The Rohingyas became stateless again because of Burmese redefined citizenship and had to flee to become stateless migrants. Similar factors have led to statelessness in Mauritania or when the South Bhutanese were chased out of Bhutan."
On whether migration happens more in developing economies:
"A larger share of cross-border migration happens within the Global South. I would say nearly 60 percent of migrants are within the country or within the Global South region. Thus, for example, the labour market and the flesh market in Johannesburg attracts a large number of migrants from sub-Saharan Africa."
"The Bangladeshi migration is mostly to India and Malaysia with very few going to the West. Iran housed nearly 700,000 Afghans for two decades with Pakistan housing another 500,000 to a million Afghans. Compared to these figures, how many Afghans reached Europe? Very few, I would say."
"Ironically, now migrants from the Global South when they reach the Global North are being sent back to the Global South. One can see this in the policy of the UK of relocating migrants to Rwanda."
PERSPECTIVES
Elspeth Guild, Queen Mary University of London

Artificial intelligence offers new possibilities to states assessing visa applications, bringing new urgency to the need for international standards.
Risking death to cross the Bay of Bengal

Sucharita Sengupta, Graduate Institute, Geneva

Death is likelier than ever for migrants who travel across the high seas. And yet they persist.
There's no such thing as a climate refugee

Sanjay Chaturvedi, South Asian University

Billions of people are likely to be displaced by climate change. But calling them 'climate refugees' oversimplifies the complex reasons people flee their homes.
'Paper unions' letting down China's internal migrant workers

Jason Hung, United Nations University

Although trade unions are widespread in China, conditions for rural-to-urban migrant workers haven't improved as fast as they have for local urban employees.
Italy: warm welcome hides a cold, exploitative reality for migrant workers

Giorgio Grappi, University of Bologna/CRG

Italy is increasingly using migrant workers as a labour pool for logistics and high-turnover industries, cutting corners on safety and training.
Global statelessness crisis keeps growing

Samir Kumar Das, University of Calcutta

With refugee populations growing, the spotlight is intensifying on nations that cast out the stateless - people who do not have citizenship to any country.
For migrant sex workers, choice matters

Neetu Pokharel, CRG Research Collective and Nepal Institute of Peace

Nepal's approach to protecting migrant workers lacks the nuance needed to seriously address abuse.
Niloy Ranjan Biswas, Dhaka University

Rohingya are hopeful of returning to their homeland in Myanmar, but for many the hope may never become a reality.
Grim options, grim choices: trafficked girls in India

Paula Banerjee, University of Calcutta

Poverty and abuse often mean Indian girls and women see human traffickers as their ticket to a better life - and this only grew worse during the pandemic.
Afghan crisis is a migration crisis

Mujib Ahmad Azizi, MCRG Research Collective and Afghanistan Research and Evaluation Unit

Afghanistan is facing a perfect storm of threats, and climate change is pushing it to breaking point. The world seems unaware of the coming catastrophe.
Originally published under Creative Commons by 360info

.
Editors Note: In the story "Migration's changing face" sent at: 20/06/2022 05:07.
This is a corrected repeat.
The post Special Report: Migration's changing face appeared first on 360.